---
Al Wathba Stables triumph with Massa Tonbakji and Khadija Youssef
After the UAE was spoiled during New Year with four key races across the HH Sheikh Mohammed Bin Rashid Al Maktoum Endurance Festival and HH Sheikh Mohammed Bin Rashid Al Maktoum Endurance Cup, it was time for Al Wathba to host three challenging races within the HH Sheikh Mohammed bin Zayed Al Nahyan Festival.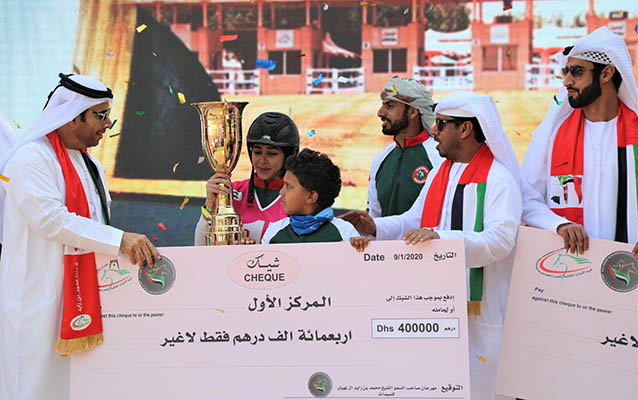 As mentioned earlier, two races were cancelled, but the first, the CEN 100 for ladies, took place. The leader after the first loop was Khadija Youssef – UAE (EO Raqusua – Al Wathba stables) but with 25 combinations within the same minute the title fight was still totally open after the initial kilometres.
EO Raqusua was voted by the pundits as the most favourable horse to win, narrowly followed by Beachcomber Spiderman mounted by Aya Redha – UAE (F3 Stables). Unfortunately, the latter was vetted out at the second loop. M7 2 Endurance Stables rider Martina Spelanzon – ARG mounted another favourite, Al Sail but also got vetted out early in the race.
Coming in first after the second loop was Harriet Brown – GBR (JZ Layla – Al Aasfa Endurance Stables), but a longer recovery time dropped her to 27th position.
Khadija left the third loop in third position, 30 seconds after new leader Hanadi Al Menhali – UAE (Saabh – Al Jazeera 1 Stable). In between this duo was Massa Tonbakji – SYR (Abu Cko Persik – Al Wathba Stables).
By this time we had already lost some strong riders with good horses, including M7 Endurance Stables' Maialen Ibanez – ESP (Oquendo); M7 2 Endurance Stables rider Eulalia Guardia – ESP (Raiga); Al Bawadi Stable rider Mira Ansaari (Medjary De Piboul); Daiana Chopita – ARG (Bebote) riding for Al Reef Ajban Stables; Veronica Simula – ITA (P G C Mago) for Al Jazeera Stable 2 and Fatma Al Marri – UAE (Tuscan) for Dubawi Stables to name just a few.
Additional well-known horses were eliminated after the third loop, but it continued to be tight at the top with Massa Tonbakji followed by Khadija Youssef and Hanadi Al Menhali. These top three were only separated by ten seconds; they ride for different stables but are all based in Al Wathba, so the competition was intense.
The only top rider who didn't make it through the re-exam was Laia Pinol – ESP (Eugrant El Adien – Al Nasr Endurance Stables).
Hanadi Al Menhali took the lead for the final loop in full charge at very high speed, quickly building up an important lead. Stable mates Massa Tonbakji and Khadija Youssef took a more conservative approach.
Hanadi was forced to stop on the track and paid a heavy price for her attempt, rewarding the more careful approach of the two Al Wathba Stables riders. They crossed the line side by side and had no issue at the final vet check.
In third place we saw another stellar performance by Dubawi Stables with Nouf Al Nuaimi – UAE (Steyl Trouble) after she left the final loop in seventh position and passed several contenders on the way to the finish line, having the highest speed of the finishers in this last loop.
Race winner Massa Tonkakji stated: "I am proud being the first champion in the festival, stressing that this represents a great honour and gives me a great motivation to achieve more achievements in the upcoming races.
Second-ranked Khadija Yousef was pleased to tell us: "I award this second place to my parents, who supported me in the equestrian field and helped me to win. I am so proud with this result because we witnessed a strong challenge."
"Important Announcement: Please note that the Private Owners endurance ride CEN 100, and the Open Ride CEN 120 has been set within the His Highness Sheikh Mohammed Bin Zayed Al Nahyan Festival on Friday 17 and Saturday 18 January 2020." This was the statement of the race organiser on Friday morning after the race for Private Stables was cancelled because of the severe rain.
A later statement explained: "We have seen that the track's condition poses a danger to riders and horses, in addition to that the veterinary examination area has changed in such a way it makes the horse's display of the inspection procedures very difficult and affects the results, and injustice for the participants. Also the tracks designated for cars have become muddy and slippery which threatens the safety of the crews and those who follow the race. The safety of the riders, officials, crews and horses is a priority."