---
Friday evening, at Sultan Bin Zayed Grand Hall, Boudheb stables in Al-Khatem in the Emirate of Abu Dhabi, the championship of Sheikh Mubarak bin Mohammed Al Nahyan to showjumping organized by the Emirates Heritage Club and Sultan bin Zayed Center for two days, in cooperation and coordination with the Emirates Equestrian and Racing Federation and Boudheb Equestrian Academy And sponsorship of the official timekeeper of the show Longines, and the participation of riders and horses from different stables, public and private equestrian clubs from all over the country.
Mr. Mohamed Mahir Al Mazrouei, Director of Village and Stables Administration, crowned the winners of the final day which totaled more than 260,000 dirhams and was ruled by international judges, in the presence of a huge number of fans for this prestigious sport.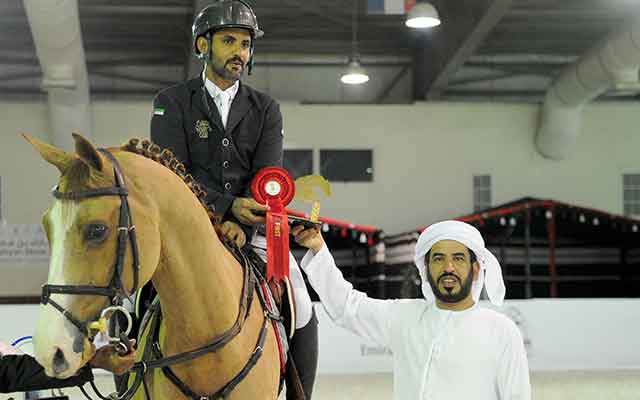 Arabian horse class
The talented rider Sultan Ahmed Al-Tabali with «Marwa» from Rabdan Equestrian Club win the first place in the Arabian horse class, Ayman Mohamed Ibrahimwith "Maleh Warsan", from Emirates Heritage Club win the second place and Hassan Ali Hamad, finished third, with his amazing horse "Kyon" from Emirates Heritage Club.